You might have heard some cool things about Helsinki. We bet most of them are true! Helsinki's a city that's been coming up with extraordinary ideas for decades – make sure not to miss these ones.
LÖYLY
Löyly, on the waterfront of Southern Helsinki, is the place to enjoy the best bits of the summer: some cold drinks and steamy sauna. The stunning wooden building hosts a restaurant with the biggest sun deck in town, but most importantly, also contains three different kinds of saunas. That is what the name Löyly stands for – a good old sauna bath!
Hernesaarenranta 4
NATIONAL LIBRARY
The National Library of Finland, built in 1840, is the oldest scholarly library in Finland, and one of the most beautiful spaces around the Helsinki Senate Square. If you've ever seen the Helsinki Senate Square, you'll know to expect a lot. The library is only open on weekdays, 9 to 5, so add some aimless wondering between bookshelves to your calendar if you've got some spare time!
Unioninkatu 36
TEMPPELIAUKIO CHURCH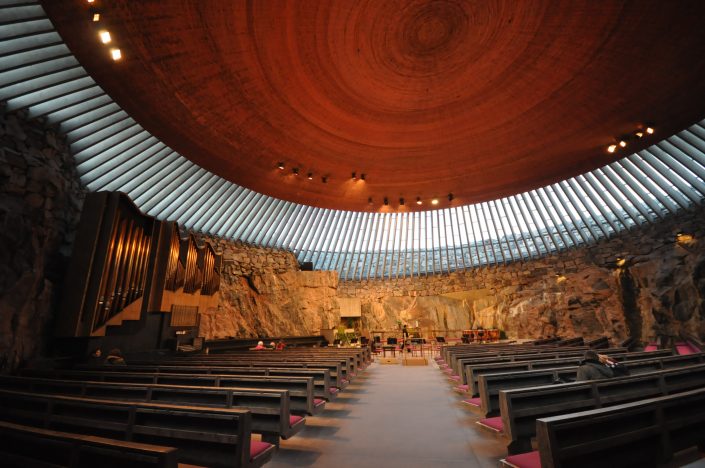 Temppeliaukio Church is one of Helsinki's most popular attractions, and for a good reason. The church, quarried out of natural bedrock, is a popluar venue for concerts. The dome covering the church hall is basically the only thing you can see from afar, and entering the wondrous structure reveals the walls of rubble and rock. Visit before noon and you'll catch the sunlight spreding to the room.
Lutherinkatu 3
SOMPASAUNA
Helsinki is the home of public saunas, and Sompasauna is the one from the public to the public. Built and maintained by a group of volunteers on the grounds of former Kalasatama port with a premium view to Southern Helsinki, Sompasauna is always free and always open. Just bring a towel and drinking water, and remember not to throw sea water to the stove!
See directions here.
Photos: Flickr – Ninara / Leena Saarinen / Jorge Láscar CC BY 2.0