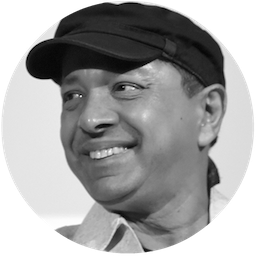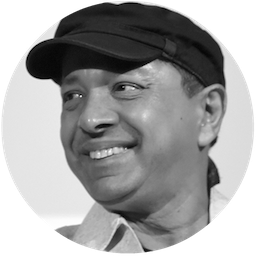 Sridhar Rangayan, Filmmaker, Festival Director & Activist
EARS on Mumbai speaker Sridhar Rangayan wears many caps – of a filmmaker, writer, activist and festival director. He has consistently strived to give a voice to social issues in India through his films, writings and public speaking for over two decades.  
His award-winning films The Pink Mirror, Yours Emotionally, 68 Pages, Project Bolo, Purple Skies and Breaking Free present hard-hitting social issues with warmth, compassion and humor; and are at the forefront of India's emergent queer cinema movement. His latest film BREAKINGFREE won the National Award for Best editing (non-fiction) and was also selected for the prestigious Indian Panorama by Directorate of Film Festivals, Government of India. 
He has served as Jury for prestigious film festivals such as Outfest (USA), Berlinale (Germany), Iris Prize (UK) and Movies That Matter (Netherlands). 
Rangayan was one of the Grand Marshals of Montreal Pride 2016 and had the honour of meeting Canadian Prime Minister Justin Trudeau.
He is the Founder Festival Director of KASHISH Mumbai International Queer Film Festival, which has over 7 years, become the biggest LGBTQ film festival in South Asia and an important event in Mumbai's cultural calendar. It is the first and only mainstream LGBTQ film festival in India and the first LGBTQ film festival to receive clearance from government.
He is one of the Co-Founders of The Humsafar Trust, which was founded in 1994 and still is one of India's largest community based organization working on HIV/AIDS intervention. He served on its board for 19 years. He also was one of the core team members of Bombay Dost, India's first gay magazine that was launched in 1990. 
He has figured in the list of 'Global List of LGBT Influencers' by BFI Flare, UK; '5 most influential gay & lesbian Indians' by Pink Pages, India; and '21 heroes changing LGBTI Asia for the better' by Asia LGBT Milestone Awards, Hong Kong.  
Filmography  
The Pink Mirror – Gulabi Aaina (40 mins, 2003)
Chakkad Bakkad Bumbe Bo (120 mins, 2004)
Yours Emotionally! (86 mins, 2006)
68 Pages (90 mins, 2007)
Bridges of Hope (14 mins, 2008)
Project Bolo (20 interviews x 30mins, 2011)
Purple Skies (66min, 2014)
Breaking Free (82min, 2015)
Awards   
National Award for Best Editing 2016 (for 'Breaking Free')
Human Rights Award at qFLIX Philadelphia, USA (for 'Breaking Free')
Silver Remi award at Worldfest 2008, Houston, USA (for '68 Pages')
Best Film on Social Issues at Ahmedabad Int. Film Festival 2009 (for '68 Pages')
Bronze Remi at Worldfest 2005, Houston (for 'Chakkad Bakkad Bumbe Bo')
Jury Award for Best Film at 'Fire Island Film Festival 2004, New York, USA (for 'The Pink Mirror)
Best Film of the Festival award at 'Question de Genre' 2003, Lille, France (for Pink Mirror)
RAPA award for Best Telefilm, 2000 (for 'Khamoshiyaan', Zee TV)
RAPA award for Best Comedy, 1999 (for 'Piya Ka Ghar', Zee TV)
More info:
http://www.solarispictures.com/SR.htm
imdb.com/name/nm1482161/
http://en.wikipedia.org/wiki/Sridhar_Rangayan