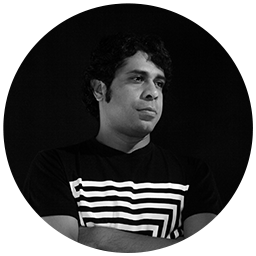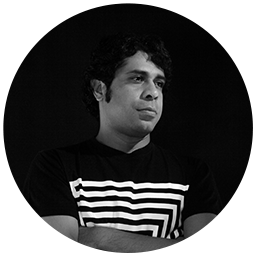 Ashvin Mani Sharma, Label head, Co-Founder, Soupherb Records, DJ, Composer, Music Producer 
Very few have been as closely associated with India's dance music scene as EARS on Mumbai speaker Ashvin Mani Sharma aka Calm Chor has. Ashvin's 19 year long career has seen him storm dance floors around the globe, from Paradiso in Amsterdam to Blue Frog in Mumbai, first with Jalebee Cartel, and after that under his solo techno avatar Calm Chor.
In the year 2013, Ashvin co-founded Soupherb records, along with his friend and fellow artist/DJ – Ash Roy. In a span of 4 years, Soupherb records has built a reputation to be India's finest underground dance music record label.
Ashvin constantly tours India, owing to his distinct sound and enthralling sets. Every summer, he tours extensively across Germany for over 2 months (for 6 years now), playing at some of the best festivals and clubs in the country. 2014 saw him visit USA for the first time, where he performed at Burning Man festival.
Feb 2015 saw Calm Chor release his massive 8-track EP "Dancefloor Sci-Fi", displaying his unique style in full force, on homegrown label Soupherb records. The EP went on to grab multiple spots on various charts on the world's biggest online music portal, Beatport. It climbed to the #2 spot on the worldwide minimal charts and claimed that spot for a few days, staying in the top 10 for nearly 3 weeks, and even hit the Beatport overall Top 100 releases and stayed there for a long period of time.
2016 saw Calm Chor release two massive EPs on Ukranian labels extraordinare Lethal Dose Recordings and Plunk that climbed various charts on Beatport and catapulted his global popularity. 2017 has much in store for Calm Chor with a summer tour of Europe including performances at Freqs of Nature festival and Jack Bimski festival.
More info:
https://www.facebook.com/CalmChor/
https://twitter.com/ashvinjalebee
https://soundcloud.com/calmchor
http://pro.beatport.com/artist/calm-chor/203363
https://www.residentadvisor.net/events/611651