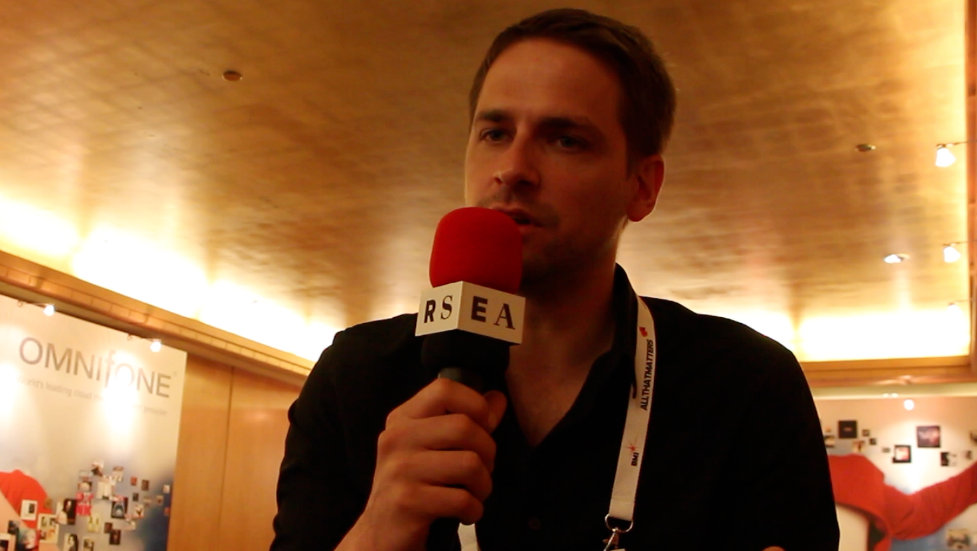 Ed Peto runs a music industry consultancy called Outdustry Ltd. The Beijing based firm specializes in China music market entry, record label services, producer management and market intelligence. EARS had a chat with Ed about Outdustry work in China and the future of copyright dependent industries in China.
Who you are and what do you do?
My name is Ed Peto and I run a company called Outdustry Group based in Beijing. We represent Western rights owners, labels, services and producers for market-entry into China.
Please tell us about your background and how did you end up in China?
I'm originally from London. I was working in the music industry with labels, artist management and a few other areas. I developed a reasonably good understanding of how the industry worked as a whole and I wanted to take that understanding somewhere where the industry was still to be made, essentially. So, seven years ago I took a bit of a left turn in my life and decided to go and see how the market works in China. It's been a very odd seven years because a lot of it is sort of been making it up as you go along. The industry in China is just fascinating! As tough as it is, everyday something bizarre or interesting happens – you'll come across some amazing stories, amazing people and it's kind of addictive. China just a very interesting place to be at a very interesting time.
Could you tell us a bit more about your company Outdustry?
The company is really a family of five small businesses. One is a producer and composer management business (Engine Music) representing Western producers, mixing and mastering engineers and composers for work on Chinese mainstream-pop, indie albums and more recently, major film soundtracks. The second business, which we actually just set up, is a sync agency (Core Sync) representing Western catalogues pitching for film, TV and web usage. We're also starting to work as music supervisors for Chinese drama series.
Third business is a kind of a rights management business (OD Rights). We represent Western rights owners for bringing their catalogues into China and finding ways to monetize that through digital, physical and other markets. We're increasingly looking into areas like performing rights, which is a very interesting area at the moment in China. We're also acquiring Chinese catalogues for international distribution.
The fourth one is a market intelligence business called China Music Business. We publish articles about how the music industry works in China and are available for market visits, report writing and market introductions. Sort of trading in information and connections essentially. Last but not least, we have a music marketing agency (S/N Agency), primarily focused on building awareness around our clients and driving consumption of their physical and digital releases.
[quote text=" Companies in China have to be there for the long run."]
What kind of strategic decisions have you made to succeed in the Chinese market?
I think in general, the Chinese industry as a whole has progressed a lot slower than people would have liked it to and it's still a very long play. Actually, as a recorded music market, it's still incredibly small. It's actually smaller than Switzerland and Thailand. That means companies in China have to be there for the long run. In terms of focusing our business, we made a decision a couple of years ago that while live music in China is incredibly exciting, it's over-crowded and a hard area to make money in, so we focused on the record side which is even harder but there's no one else really doing what we do – so we've got a good niche for ourselves. It's strategically a very interesting area to be in but we have to keep in mind that it's a long strategy.
Besides China, do you do business in other regions in Asia as well?
Because the industry is so small at the moment in China, there is a temptation to start doing business outside of China. However, one of the decisions I've made over the last couple of years is that you just got to be the best at what you do within a particular region. I think it could be a mistake to try to spread yourself out too much. China is such a complex place that it requires your full attention. Each region in Asia has its own set of issues or complexities, which require full time attention as well. For us, the most important thing is to be the best at what we do within China.
[quote text=" The market is going to be very exciting and big in the future."]
How do you see the development in the creative industries in China?
Any of the copyright dependent industries have traditionally had a very hard run in China. But there is a recognizable copyright law in China so it's just a question of enforcing it properly so that the creative industries can start to flourish. It's just starting to happen now. It's looking increasingly interesting as the businesses develop and people actually start to see rewards from copyright based goods.
If we look at the film industry in China for example, it's going through a boom at the moment. Largely because the Chinese government sees it as kind of a soft power issue where they want to start exporting films and they've protected that as an industry. We're hoping that the music industry is going to be the next area of creative goods that actually get that level of protection from the government. It looks very exciting if this will happen. But as with all things in China, these things take longer than you would imagine. We know that the market is going to be very exciting and big in the future. It's just when that future actually comes, that's what's unclear.