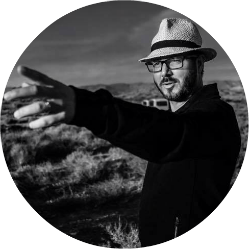 Marko Mäkilaakso, Filmmaker
EARS on Mumbai speaker Marko Mäkilaakso is an established feature film and music video director who has gained an international reputation for his strong visual style and storytelling abilities. During his teenage years Marko worked for several years at a local commercial production company in Finland where he directed a number of award winning short films. In the late 90's director Antti J. Jokinen (Solar Films) took Marko under his wing, giving him the chance to learn his craft and to both develop and direct various projects. In 2001 Marko co-founded Double Cross Media House Ltd which produced commercials, documentaries, TV-series and award winning music videos in Finland. He then built on this experience when he moved to Los Angeles and worked as a 2nd Unit Director in a feature film NIGHTBEASTS starring Zach Galligan (Gremlins 1 & 2).
After returning to his native Finland, Marko continued making commercials and music videos and also directed 13- episodes of the TV-series LOMAN TARPEESSA (Nelonen) which involved location shooting across the globe. During the same year Marko was nominated for three music videos he directed in the category "Best music video of the year" at the Emma Awards (The Finnish Grammy's) and won the prestige prize with his music video for UNIKLUBI (Universal Music). Furthermore, Marko worked closely on several projects with his friend Lloyd Kaufman, the president and co-founder of Troma Entertainment, developed projects with Spider-man creator Stan Lee and Jean-Claude Van Damme's Rodin Entertainment, to name but a few.
In 2007 Marko directed his first feature film WAR OF THE DEAD, which was shot in Lithuania. The project was an international co-production between the USA, Lithuania and Italy on which Marko also served as a co-producer and writer. The film premiered at the Toronto After Dark Film Festival in 2011. In the next few years WAR OF THE DEAD was released in all major territories both theatrically and straight-to-video via Entertainment One, Momentum Pictures, Alliance Films, Scanbox Entertainment etc. In 2011 Marko was hired to direct Syfy / NBC Universal TV-movie DEADLY DESCENT which was shot in Bulgaria. The actioner premiered as a Syfy Original movie in the US in January 2013, the same month as Entertainment One released WAR OF THE DEAD in the states. DEADLY DESCENT starred Adrian Paul (Highlander) and Chuck Campbell (Stargate Atlantis).
In 2013 Marko Mäkilaakso was again nominated at the Emma Awards for his hit music video for the pop sensation Robin. The music video became the most successful music video in Finnish history on YouTube. During the same year Marko was hired to direct a sequel to a successful family film ELLA AND FRIENDS, based on the popular children books written by Timo Parvela. ELLA AND FRIENDS 2 – PATEROCK had its theatrical premiere in December 27th 2013 and became instant box office hit in Finland. In 2016 Marko shot his fourth feature film IT CAME FROM THE DESERT. The action / comedy was based on the 80's legendary video game by Cinemaware and had its world premiere at the 2017 Fantasy Filmfest.